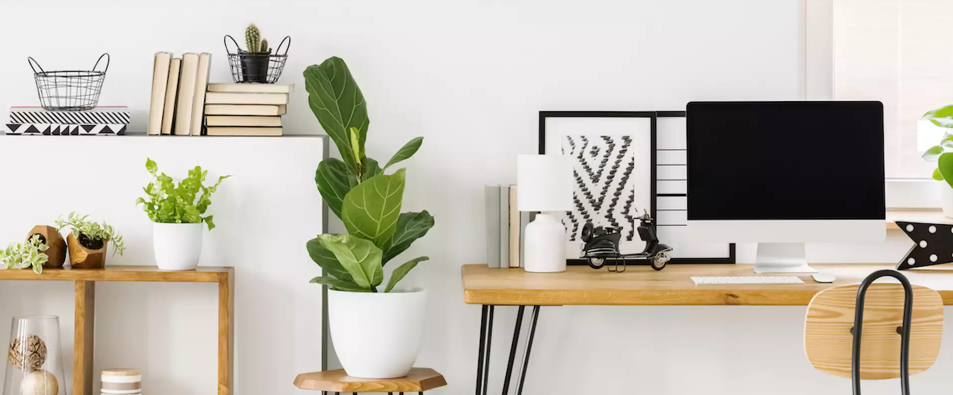 Working from home has become the new normal for many of us. Whether you are a freelancer, a remote worker, or simply someone who needs a space to concentrate, having a home office is essential to managing your daily workload efficiently and peacefully.
A well-designed home office can help boost your productivity, creativity, and overall well-being. However, creating a functional and stylish workspace can be a challenge, especially when it comes to choosing the right home furniture. In this blog, we will share with you 5 must-have home office furniture pieces that will help you create a workspace you will love.
Standing Desk
If you spend a lot of time sitting at a desk, you might want to consider investing in a standing desk. Sitting for long periods can be detrimental to your health, causing back pain, neck pain, and poor posture. A standing desk can help you avoid these issues by allowing you to work in a more ergonomic position. 
Standing also increases your blood flow, which can help you feel more alert and focused. You can choose from a range of standing desk options available, from simple tabletop converters to full-size adjustable desks.
Ergonomic Chair
If you do decide to sit while you work, it is essential to choose an ergonomic chair that supports your body. Using an ergonomic chair can help reduce discomfort, fatigue, and pain associated with poor posture and sitting positions. This can lead to increased productivity as you can focus on your work without being distracted by discomfort. 
Furthermore, ergonomic chairs can also improve blood circulation, decrease the risk of developing musculoskeletal disorders, and promote good posture. A good ergonomic chair should have adjustable height, lumbar support, and armrests. It should also be comfortable and durable enough to withstand daily use. You can find a wide range of ergonomic chairs of different colours and styles available, ranging from simple task chairs to high-end executive chairs. Choose one that fits your budget and compliments your posture.
Bookshelves
Whether you are a writer, a student, or simply an avid reader, having a bookshelf in your home office can be both practical and aesthetically pleasing. A bookshelf can help you organize your books, files, and other work materials, while also adding a touch of personality to your workspace. You can find a wide variety of bookshelves from narrow and traditional to modern modular shelves available online or from a local furniture dealer near you. Choose one that fits your space and style.
Storage Cabinets
Keeping your workspace organized is essential to improving productivity and staying focused. Having ample storage space in your home office can help keep your files, supplies, and other materials in order, and help you find them quickly when you need them urgently. 
You can find an assortment of storage cabinets available, from simple metal filing cabinets to elegant wooden credenzas. Make sure you choose one that fits your needs and goes with your overall home office interior design.
If you are short on square footage, you can also opt for adding wall shelving units or floating shelves to maximize the use of space while minimizing clutter. 
Decorative Accents
Last but not least, adding a few decorative accents to your home office decor can help you create a space that feels inviting and inspiring. Consider adding a rug, some artwork, or a few plants to your workspace. These elements can help soften the look of your office, while also adding texture and personality. Choose accents that reflect your personality and overall interior decor. However, make sure not to add too many accents so that the home office feels cluttered.
In conclusion, working from home can be a joyful and productive experience with the right home office setup. Creating a home office that is both functional and stylish is essential for productivity and wellness. Whether you are working from home full-time or just need a space to concentrate, choosing the right furniture can make all the difference. Consider investing in a standing desk, an ergonomic chair, bookshelves, storage cabinets, and decorative accents to create a workspace you will love. With the right combination of furniture, you can create a home office that inspires creativity and productivity, while also reflecting your personal style.
Reach out to our design experts at Harkel Office and set up the perfect home office with the right furniture. From ergonomic chairs to adjustable standing desks to storage solutions, we have got you covered.