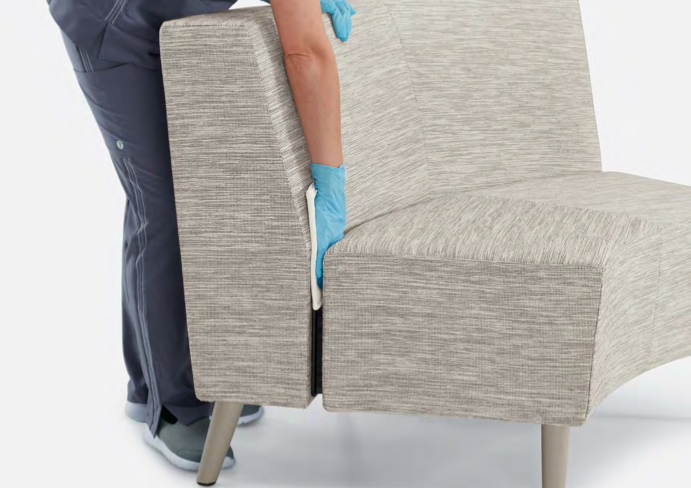 4 Features To Look For In Health Care Furniture
If you are in the healthcare industry, then you know that hospitals, clinics, and other healthcare facilities have very specific furniture needs. Understanding the needs of your facility can be difficult, and finding the appropriate furniture to meet these needs can be a further challenge. At Harkel Office, we specialize in sourcing furniture to meet your individual needs in your healthcare space, taking the stress out of the decision. Today, we will cover some of the top features to look for when choosing healthcare furniture.
Safety & Comfort
The first factor to consider when choosing furniture for a healthcare space is safety and comfort. Consider what types of patients you see in your facility on a daily basis, and what types of safety measures they would require to be comfortable and safe within your facility. For example, do you work with young children and need furniture without sharp edges or corners? Different patient populations will have different needs, and your furniture choices must reflect this. Furthermore, you must be able to accommodate different physical abilities and sizes in a healthcare facility, allowing patients to be comfortable no matter their body type or limitations. The safety of your patients is of the utmost importance, and must be considered when choosing furniture.
Not only must patient safety be a consideration, but also those of the staff. Healthcare staff often put in long hours, and the furniture they use to do their work should provide comfort and keep their bodies in good condition. Consider ergonomic seating at workstations and reception desks, allowing staff to sit comfortably and provide back relief. If furniture must be moved frequently, ensure that it includes features that allow it to be moved easily and quickly. Harkel Office can help you choose furniture that accommodates your staff's needs, putting their safety top of mind alongside that of your patients.
Cleanability
Closely related to safety, the cleanability of furniture is a major factor to consider when choosing healthcare furniture. It is important to purchase furniture that is easy to clean in order to maintain sanitization procedures, prevent the spread of infection, and allow staff to complete routine cleanings efficiently.
Chairs and seating should include a "clean out space" between the seat and chair back. This not only makes the chair easier to clean, but provides fewer catch points for bacteria, bed bugs, or other unwanted organisms to grow. Furthermore, it keeps staff safe, as they will not need to place their hands in a space that they can't see—and where they can't see what their hand will come in contact with—while cleaning.
Choose materials that are easy to clean and resist penetration from microorganisms. Wood and wood veneers are porous and could allow bacteria growth; instead, select laminate finishes for surfaces such as reception desks, cabinets, and waiting room tables. Similarly, choose upholstery that is water and tear resistant in order to limit the possibility of bacterial growth.
Durability
Furniture choices should also be durable, able to withstand heavy use over time. Assess your facility's regular traffic levels and patient load in order to determine the level of durability you will need in your furniture. If your facility sees 24-hour use, such as a hospital, durability will need to play an especially important role in your selections.
Furniture with metal frames are the most durable and best able to hold up to continued use and rigorous sanitization regimens. Further, metal and similar materials that do not scratch easily are preferred, as scratches can be home to bacteria or other microorganisms. Similarly, fabric that is difficult to tear or puncture will better resist infection. Textiles should also be moisture-resistant and able to withstand rigorous cleaning, as well as busy and regular use in both patient rooms and waiting areas. Harkel Office can assist you in choosing furniture upholstered with performance fabric tested specifically for use in healthcare facilities.
Appearance
Finally, do not overlook the appearance of your space. While it may not seem as important as our previous considerations, a space's appearance can also have an affect on patient and staff wellbeing. Just because an environment is sterile, that doesn't mean it has to look uninviting!  Keep your space inviting and relaxing for patients by incorporating warm tones in your paint, furniture, and décor. These aesthetic touches will help boost the morale of patients and guests, calm nerves, and make visits to your facility more comfortable for all. For more information on how to design an inviting and functional healthcare space, check out our blog on 5 Major Design Trends in the Healthcare industry.
Redesigning your space is a huge endeavour, and your furniture should be an investment that serves you for years to come. From durability to cleanability, safety to aesthetics, at Harkel Office we take all aspects of your business into consideration when choosing the right furniture for your healthcare space. Harkel Office can use our industry expertise to assist you in choosing the best furniture for your needs, no matter your field within the healthcare industry. Contact the experts at Harkel Office today and Get It Right!