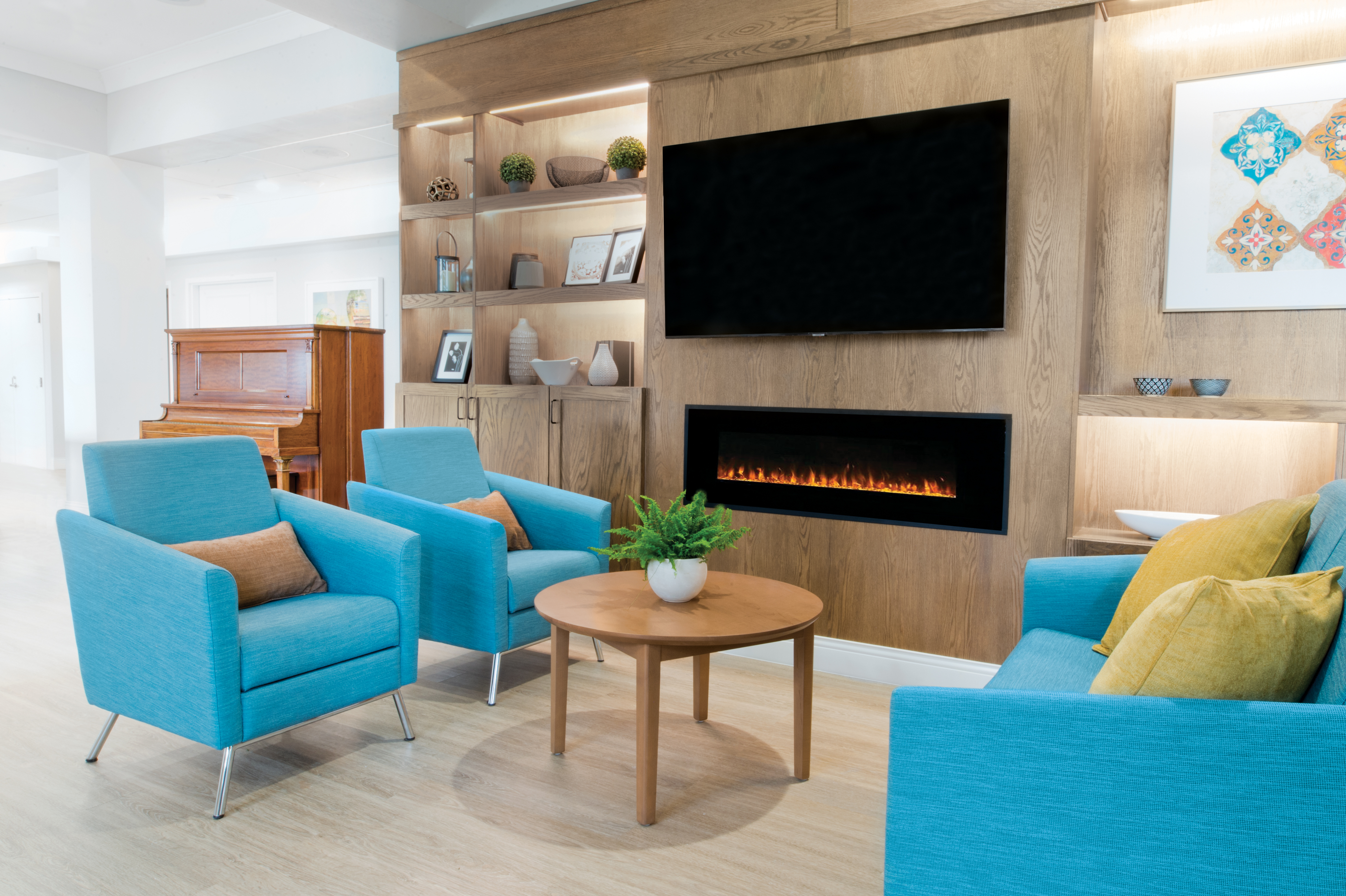 5 Major Trends in Healthcare Design
In the past two years, our lives have changed drastically, from the way we work to how we access vital services like healthcare. Similar to the workplace, healthcare facilities have had to make a shift in the way they work. The way health providers see their patients, physical distancing requirements, and the need for multi-fuctional spaces have all prompted changes in the way healthcare facilities function—and necessitated a change in the way we view healthcare design.
Prioritizing tech availability, flexibility, and patient comfort with traditional priorities such as infection control have brought about a new way of designing healthcare spaces. From doctors' offices to hospitals, dental offices to long-term care facilities, healthcare spaces are leading the way in designing areas that can combine functionality with individual needs. Read on to learn about 6 ways Healthcare Design is changing to promote both patient and staff wellness.
Inviting Patient Rooms
Recently, research has shown that the design of a room can increase patients well being, allowing them to be comfortable and relax—without compromising staff, patient health and safety. Because of this, there has been a shift towards designing patient rooms to accommodate not only the functionalities needed in a medical space, but also elements that will provide comfort to patients and their families.
Furniture has become available that combines comfort and a home-like atmosphere with industry standards for sanitation, durability, and mobility needs. Purpose-built medical furniture can stand up to rigorous cleaning, heavy use, and include features that enhance staff safety as they treat and care for their patients, without compromising on comfort and style. It is now more possible than ever to add colour, unique décor, and ultimately comfort to patients rooms.
Multi-purpose Modular Furniture
In order to provide the highest standards in safety and convenience, multi-purpose furniture has become a staple in healthcare design. From foldout beds to fully mobile seating, furniture that can be moved and rearranged on demand is a huge asset for healthcare spaces that see a multitude of uses. Modular furniture can provide convenience for both patients and staff, keeping them safe and comfortable in their day-to-day experiences.
Modular furniture is already trending in offices, and has become increasingly popular in patient rooms, waiting areas, and staff offices due to its flexibility. Modular furniture can be taken apart and reassembled depending on your needs, creating truly multi-functional spaces. Whether it is creating privacy for a grieving family in a waiting area, providing additional space for a disabled patient, or allowing patient rooms to comfortably accommodate visitors, modular furniture is an asset to any healthcare design.
Cleaning & Infection Control
While design considerations are important, it is also necessary that furniture in any healthcare facility stand up to heavy use, cleaning, and sanitation measures. Staff must be confident in their ability to disinfect furniture pieces both thoroughly and easily. Healthcare designers must be aware of the sanitization and cleaning needs of your facility, and must be equipped to choose products and finishes accordingly.
Created using specialized performance finishes and fabric to support and stand up to rigorous disinfection and cleaning protocols, today's healthcare furniture is built to assist in preventing the spread of disease. Many pieces feature open, wipe-out spaces between the seats and back to ensure quick and thorough cleaning, as well as sealed upholstery that keeps bacteria and moisture out. Harkel Office can work with you in selecting furniture for your healthcare space that suits your needs and supports your cleaning and disinfecting protocols.
High-Tech Rooms
As our society becomes increasingly digital, it is important that our healthcare spaces are equipped to keep patients and their families comfortable—physically and digitally! Gone are the days when technology was only found in patient exam rooms, as facilities become "smarter" and integrate technology throughout their space and processes.
End tables, or even seating, can be equipped with outlets or USB ports that allow patients and visitors to keep their devices charged and stay connected while visiting your facility. Including charging stations in waiting areas and patient areas can reduce the stress and anxiety felt by many when inside healthcare spaces. Including tech features such as digital check-in kiosks can help decrease wait times in busy facilities and allow patients to choose to interact with your space and staff in the way they feel most comfortable. Entertainment features in waiting rooms can also assist patients and families by providing a welcome distraction. However you choose to use technology in your healthcare space, it is a definite must in any modern healthcare design plan.
Colour & Artwork
Finally, healthcare design can be as fun as it is practical! Don't shy away from the use of colourful accents throughout your healthcare space, and incorporate artwork into designs where possible. Bold colours may be untraditional, but can be practical as well as aesthetically pleasing, emphasizing important features within a room. Colour and artwork can give patients a positive impression of your space, set you apart from your counterparts or competitors, and help to reduce anxiety and put a patient as ease within a space.
Colour can be adapted to your particular discipline, providing additional supports to your patients. For example, brightly coloured furniture can help patients who are visually impaired find a place to sit, or differently coloured rooms and hallways can help patients find their way in your facility. Contrasting colours can be used to segment spaces and create the feeling of separation or privacy in a multi-use or smaller space.
Colours not only provide an eye-catching accent, but can assist in tying your space together for a cohesive look. Choose a colour palette in 3-5 colours and use it throughout your space to create a cohesive appearance that puts patients at ease.
Whether you are considering a complete redesign of your healthcare space, or simply a quick face-lift, it is important to make design and furnishings a serious consideration. A good healthcare design can elevate your space, setting you apart and keeping your patients feeling comfortable. The experts at Harkel Office can assist you in your healthcare design, using our specialized industry knowledge to help you choose the best options to suit your individual space and needs. Contact the experts at Harkel Office today and Get It Right!