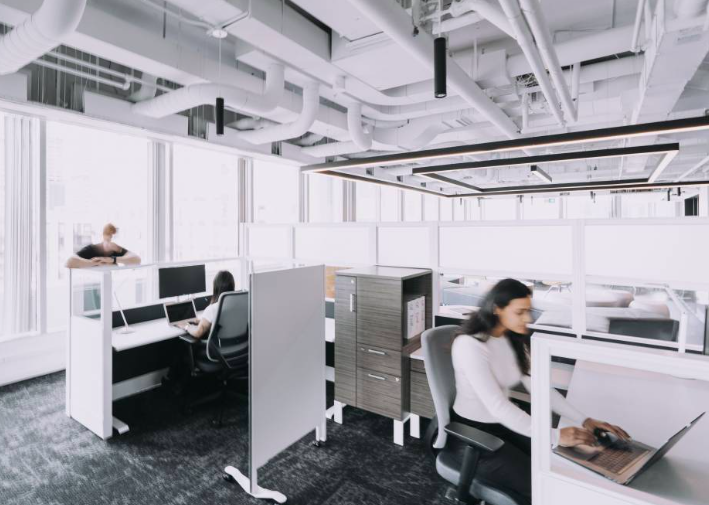 The Office Of The Future
What does the office of the future look like? The COVID-19 pandemic has forced a complete turnaround in the way work is done, resulting in organizations re-thinking how they work, and whether current practices really are the most effective model. The hybrid work model has quickly gained traction as working remotely and in office have both proven to have numerous benefits in contemporary times.
Understanding how these changes benefit both employees and organizations helps develop a more symbiotic relationship, strengthening ties between spaces we once considered to be in two different worlds. Take a first look at what the future of the office entails and the advantages that come along with it with Harkel Office, experts in office design, and a leader in the creation of innovative, evolving workspaces.
Community Socialization
The integration of workplace communities is an essential part of the Office of the Future. Establishing strong connections between employees is a key focus of the in-office experience, and can be most effectively done through maintaining strong ties to the office space. Remote working allows for flexibility in the way work is done, but lacks face to face interaction many employees require. This can create a disconnect between workers, supervisors and the goals of the workplace.
Flexible desking solutions and table-style work stations that offer flexibility and openness, compared to the limitations of a single desk or cubicle, have become increasingly popular for in-office workers.  Shared, rotating workspaces allow for collaboration between employees, maximize space, and allow employees to enjoy the social interactions of the workplace on a part-time basis. Implement shields and dividers for a touch of privacy and safety, and to help build safely distanced yet interactive spaces for community socialization.
Team Collaboration
Collaboration is the best way for organizations to be creative and overcome challenges in an efficient manner. Collaborative approaches can still be taken via remote work, however they are not always the most effective. In-person teamwork enhances communication, and allows team members to complete work at a higher level, in ways that remote work cannot match. Making certain that the Office of the Future accommodates for opportunities to work together in person can provide solutions that far surpass online meetings.
Shared workplaces are not a trend, but are a representation of modern working arrangements that create space for collaboration. Integrating modular furniture within shared workstations is the perfect formula for teamwork, allowing employees to adjust a space to suit the needs of their team.  Allowing employees to collaborate and be creative in their workspace will similarly foster creative thought in their work, providing new and exciting ways to solve problems and complete tasks.  Providing spaces where teams can come together and collaborate is a necessity in the Office of the Future.
Individual Focus
While teamwork and collaboration are important, operating at an individual level cannot be overlooked. After all, it is the main way for tasks to be accomplished! Achievement at an individual level within the Office of the Future cannot only be monitored in person, but must be established in remote work settings. Comfortability in a workspace, whether at home or remotely, improves the wellbeing of employees which in turn increases productivity and overall happiness.
Being mindful and attentive to the needs of employees at home can guarantee the effectiveness of a work-from-home strategy, making the transition from in person to remote work as smooth as possible. Providing employees with ergonomic office furniture that is accessible for at home use allows them to build a home office space where they can be most productive. With a focus on health and comfort at home, employees will feel they are valued, increasing worker empathy, security, and strengthening ties to their employer.
Sustainability
The prioritization of eco-friendly solutions is essential for all organizations to integrate into their daily practices. Sustainable living is not just a day to day endeavour, but a way of living for an abundant and healthy future. When selecting designers, manufacturers and distributors for a future office overhaul, many organizations are prioritizing selecting partners who follow sustainable practices in support of keeping workplaces green.
Local distributing processes for office furniture reduce the carbon footprint that accumulates due to the delivery and installation procedures needed for offices. Consider going local and consulting with a distributor who can provide the essential features to your Office of the Future in a sustainable manner.
Accessibility
Offices of the Future are accessible to all and leave no one behind. Accessible spaces are the new standard and organizations must be diligent in developing spaces that are accommodating and inclusive to the necessities of workers in order to create an uplifting and equitable atmosphere.
Working with designers, manufacturers and distributors who respect these requirements is critical for a workspace to thrive. Harkel Office makes accessibility a priority when selecting manufacturers to partner with, ensuring designs take into account the diverse needs of end users. By placing employees' diverse needs at the forefront of designs, employers can demonstrate the value they place in their employees and the diversity they embody. There is no space for exclusions in the Office of the Future.
Layout, Design & Technology
Technology is changing rapidly and the Office of the Future is, and will continue to, integrate new forms of tech as they are developed. Technology continues to create new ways to automate work, increasing efficiency, and allowing employees increased flexibility in their day-to-day lives.  Such technology advancements are welcomed by employees and employers alike. Technology also plays a massive role in office design; spaces are designed around the integration of technological features, and the inclusion of technology can determine both the aesthetics and function of a space.
Other features, such as providing open environments and focusing on colour, texture, materials and other unique touches, have also increased in importance. Open floor plans have become increasingly popular in recent years, meaning designers will need to solve for a more hygienic layout.  Adapting solutions, such as sound-mitigating partitions that direct office traffic, will ensure physical distancing between workspaces while minimizing sound disturbances. Applying trending and/or classic colours and textures in office chairs, couches, and other furniture will further increase office desirability. Making offices a liveable, enriching experience for employees has become a heightened priority, and the Office of the Future will incorporate functionality with design at all levels.
Are you looking to see these ideas in action?  Harkel Office is proud to work alongside Global Furniture Group, whose recently opened Blueprint Showroom in Downtown Toronto reimagines the Office of the Future and brings it to life.  The dynamic space showcases new ways to gather, share, focus, and connect in the workplace, demonstrating office layouts and workflows that support culture, collaboration and creativity.  We can't wait to show you this vision of the future of work, and how we can help you bring it to life!
Harkel Office keeps you up to date and prepared for anything to come, and is a leader in creating your customized Office of the Future. Contact the experts at Harkel Office for a consultation and Get It Right. We can't wait for you to discover all that the Office of the Future has to offer.