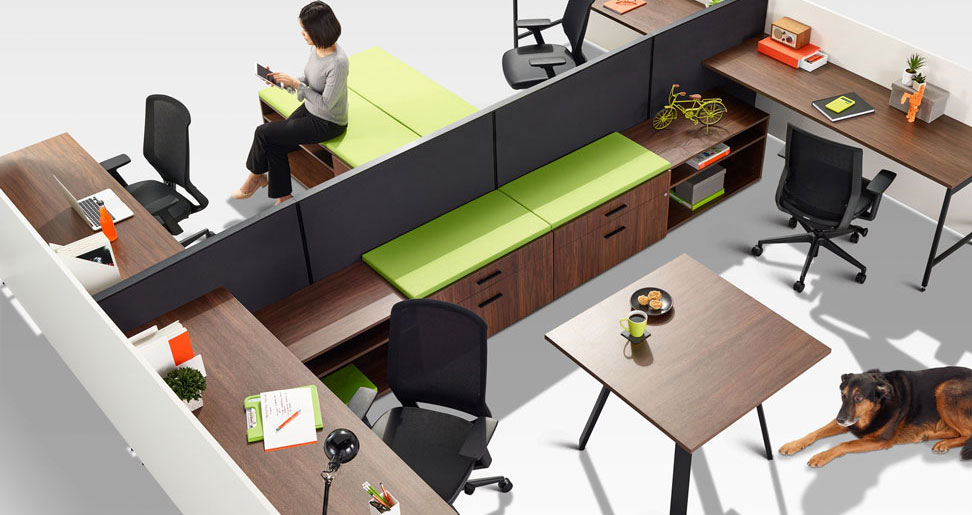 4 Reasons Why Modular Furniture Is Right for your Office
Introducing modular furniture to your workplace can provide a number of benefits to you and your employees. Creating a flexible, modular space can assist in employee happiness and productivity, prepare you for change and growth, and position your company as an innovator, all while maintaining a consistent aesthetic throughout your workplace. Work in today's world no longer follows a set, static structure, and neither should your office design!
Modular vs. Moveable Furniture
First, what is modular furniture, and how is it different from moveable furniture?  Similar to modular furniture, moveable furniture does provide you with flexible configuration options, allowing you to create impromptu setups for collaboration, individual working, or socialization.
However, modular furniture provides added flexibility and longevity.  Modular furniture is designed for long-term flexibility, efficient use of limited space, and consistent and attractive visuals. Modular solutions are available for all types of functions. Modular desks can provide functionality for individual work or team setups, and allow easy reconfiguration with the addition of a new team member. Modular lounge areas can provide informal meeting areas, creative spaces, or areas for team members to take breaks and socialize. All types of furniture are available in modular styles, even walls!
If you still need convincing, read on for four reasons why modular furniture in the office is a trend that is here to stay.
Aesthetics
Modular furniture is unique in that, similar to Lego, different configurations can be "built" without appearing that they have just been moved.  A new configuration of a modular piece of furniture appears that it has been purpose-built that way.  Further, modular systems are available in many different styles.  From modern to traditional, there is a modular system that will fit with your office's aesthetic style.
To create multi-use spaces and "break-out zones" for employees, combine couches, ottomans, and desking for an attractive and productive space that meets your needs. A modular design will be able to accommodate activity-based work while maintaining a seamless aesthetic throughout your office space
Increase Productivity
Not only can modular furniture provide a cohesive design, its use can also improve employee productivity. By allowing an allocation of space based on function, workspaces can be configured based on a team's specific needs.  Employees are able to work collaboratively or independently as needed, and switch between working styles fluidly. Increase efficiency and productivity can be found in allowing flexibility, especially in today's evolving workspaces.
Employees are also able to customize their space with a modular system, allowing them to base their setup on their individual needs, working style, and responsibilities. The ability to customize and personalize a space gives employees a sense of control, increasing their comfort, happiness and, ultimately, their performance. Happier workers are more engaged, efficient, and productive… and a modular system can help achieve this state.
Be an Innovator
An innovative approach to office design can set you apart from your peers and competitors.  High-performing companies are often innovative, and this applies across all areas, including design. Creating dynamic, innovative spaces will show your employees your personality and creativity. The comfort, interest, and modernity found in a modular system will speak to current and prospective employees, framing you as a desirable employer.
An emphasis on creativity and flexibility will foster the same values in employees, allowing them to freely express themselves in their work and build innovative and dynamic solutions.  Modular furniture can provide innovative spaces, and move your workspace into the future.
Invest in Growth
Finally, using modular furniture in your office means that you are investing in the growth of your business.  Installers are able to quickly and inexpensively reconfigure workspaces as your office and team evolve. Modular furniture is a long-term investment in flexibility that you are making with the knowledge that your business will need to change and grow as time passes.
The configuration you need today may not be the one that best suits your team tomorrow, and modular furniture gives you the flexibility you need to adapt to changing circumstances.  The nature of modular furniture facilitates the evolving nature of companies as they expand, downsize, move spaces, or adapt to changing workforce needs. With today's trends of working from home and temporary, shared workspaces, the flexibility of modular furniture is more important than ever.
Modular furniture can prove an asset to your staff and your business as a whole. Update your office and design with the future in mind by using modular designs. The design experts at Harkel Office can work with you to design an innovative, flexible space incorporating modular furniture that suits your needs. Contact us today at 905.417.5335 and let us help you Get It Right.