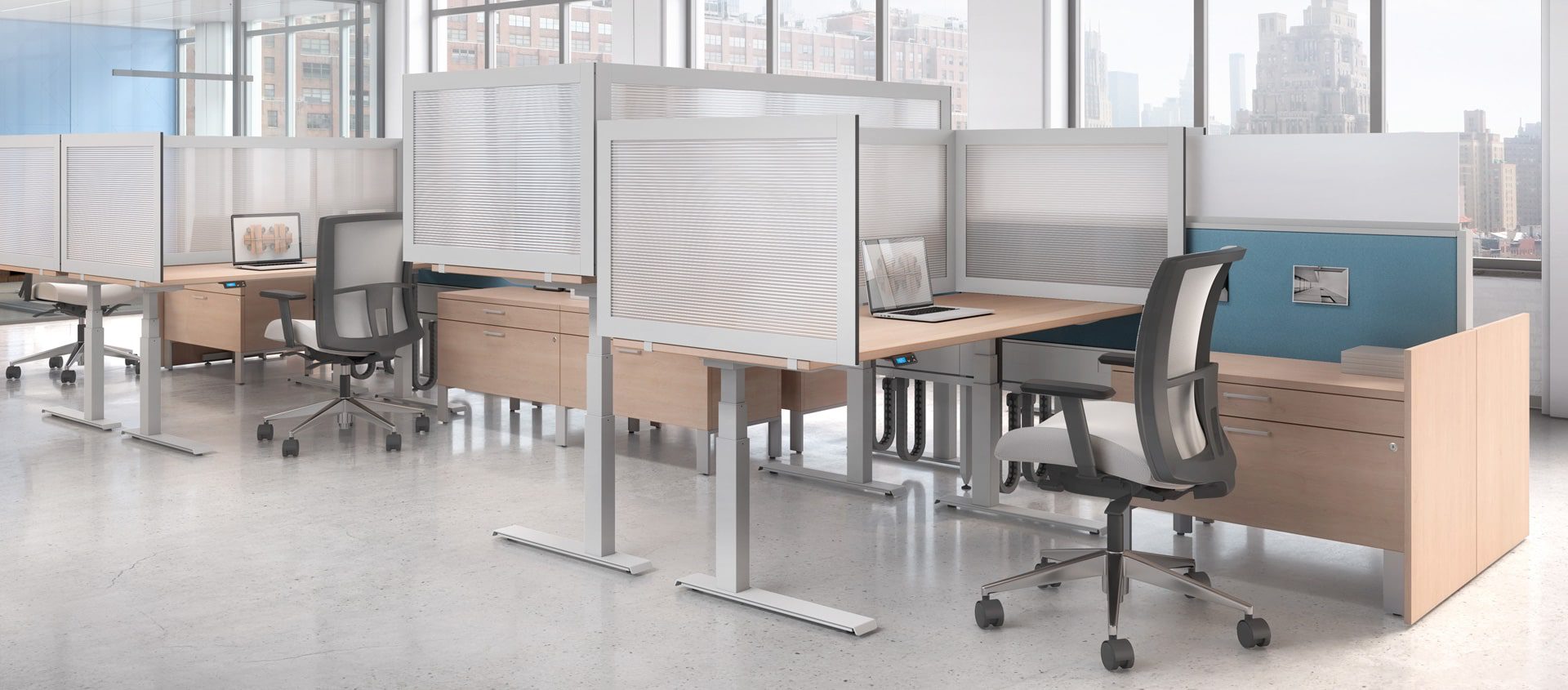 Designing the Office to Boost Productivity Post Covid
As we slowly return to traditional work spaces after Covid19 work from home mandates, we must begin to adjust our daily routines, as many are used to the comfort of their home offices. Despite the change, many look forward to reuniting with their colleagues and returning to a team-based, collaborative work place. However, it is important that employees return to an environment that encourages both collaboration and safety, allowing them to be both comfortable and productive. Today's blog outlines strategies to keep in mind when redesigning your office to foster employee creativity, productivity, and comfort in a post-Covid19 world.
Rethinking the Layout
How your office space is laid out will impact your business, from employee productivity to workspace size to efficiency of movement. To determine the best layout, you must first consider the physical features of your space such as ceiling height, room dimensions, and hallway configuration. From there, you can begin to determine the ideal spacing and setup of your employee workstations.
In a post-Covid19 world, however, this can be tricky. You must strike a balance between keeping employees safely distanced, and using the space you have available to you. If you have a larger space, opt for an open layout with clear sightlines, spread out desks, and include both private and semi-private workstations. If your space is smaller, use dividers or barriers to define individual workspaces and keep employees safe, without the need for physically distancing desks.
Ensure that your space is balanced; do not crowd your employees as this can affect employee morale and productivity, but do not leave too much empty space, as this can leave employees less stimulated. Your space should accommodate the need for privacy alongside the need for collaboration and socialization, while maintaining a sense of security and comfort. While this may seem daunting, you may find your employees need less than you think to feel secure. Don't be afraid to consult with them and determine what would make them feel comfortable in the workplace, post-Covid19.
Improved Lighting Improves Mood
Natural lighting can be extremely beneficial to employee morale and mental health, and is especially important when bringing employees back to office post Covid-19. If your office has large windows, situate employee workstations or collaboration centers beside them. This will ensure that your employees receive adequate sunlight throughout the day, boosting their moods. The use of natural lighting can also reduce your use of artificial light, lowering your costs for daytime lighting.
If your office has limited access to windows, your space can still be designed to offer bright light through the day. Including desktop lights and sunlight lamps in your design can provide additional lighting for individual workspaces. Try incorporating lighting in interesting ways throughout your desking spaces. In shared spaces, use bright, indirect light to provide illumination without harshness and keep employees at east. Avoid using bright and white fluorescent lights, as they are one of the direct causes of headaches, eye strains and fatigue in the office.
Conscious Colour Choice
We may not place importance on colour when designing for the workplace, but it can in fact greatly affect an employee's mood and desire to be in a space. Though colour may be an afterthought, a great colour scheme can in fact differentiate a desirable workplace from an undesirable workplace.
When choosing your office colour scheme, be thoughtful: do not mix and match more than three colours as this can be distracting to workers; choose soothing colours, such as green or blue, to boost mood and productivity; use colours that reflect your brand and values—don't hesitate to use a pop of colour or bold patterns if your brand is modern and edgy, or muted, classic colours if your brand is more conservative.
Colours can be incorporated into your paint, décor, and furniture choices. If you are looking to brighten up your space with bold, colourful furniture, the experts at Harkel can ensure you are choosing the right pieces to suit your space, values, and prioritize employee comfort.
Choosing the Correct Furniture
Finally, in order to promote employee comfort and make your office desirable post-Covid19, you must select the right furniture. Employees have become used to the comfort of their home offices, and the ability to be comfortable in varied settings throughout their day. Perhaps they have become used to working not only from their desk, but from a comfortable armchair or sofa where they spend part of their day. Perhaps they have become used to taking their work outdoors when possible to enjoy the fresh air. Choosing the correct furniture array for your space can make all the difference in boosting employee morale and productivity at the office.
Depending on your office size, employee count, and budget, your furniture choices can vary widely. You may need to look into a modular system if you need to create a multi-purpose space, or individual storage if employees will be sharing workspaces part-time. Choose ergonomic furniture that provides comfort while employees work, in finishes that are easy to clean and maintain. Including private or semi-private work stations, alongside collaborative spaces, will ensure your employees are able to work in an environment that suits their individual needs. And don't be afraid to add some comfortable lounge furniture to your space!
Your employees will be happy to spend time in the workplace if they are able to do so comfortably and safely, and proper furniture choice is a major step towards this. For assistance in choosing furniture that will suit both your and your employees' needs, the experts at Harkel Office are here to help. The task of choosing furniture and designing your space may feel daunting, but with Harkel Office on your side, it will be a breeze.
If you are looking to redesign your office space to suit employees post-Covid19, Harkel Office can help. No matter your industry, the team at Harkel Office has the expertise to bring your space up to date, seamlessly integrating employee safety and comfort with your business needs and budget. When you work with Harkel Office, you will Get It Right. Visit our website or call us at 905-417-5335 today.