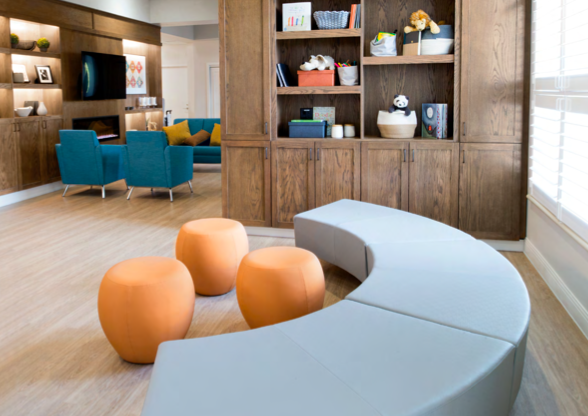 Top 5 Post-COVID Trends For Healthcare Design
The COVID-19 pandemic has brought with it many changes, both to people's lives and to the industries that support them. While some of these changes may not survive in a post-COVID19 world, many trends will be with us for the long-term. One of the most-changed industries is healthcare, where businesses of all sizes and disciplines have seen a change in the way they do business. These changes not only affect the way in which patients are served and treated, but in the designs and function of the spaces themselves. In this blog, you will read about the top 5 post-COVID19 trends for healthcare design.
Cleanability Of Furniture
With the onset of the pandemic, cleanliness and sanitization became a higher priority than ever before. In all industries, keeping spaces clean was a top priority; due to the nature of the healthcare industry, regular and thorough sanitization was especially important.  The pandemic brought with it not only an increase in the number of sanitization stations within healthcare spaces, but also a shift towards easily sanitized fixtures and furniture.
Though durability and easy maintenance of furniture has always been a concern in the high-traffic healthcare industry, specialized, performance fabrics have become popular as healthcare businesses reinvent their spaces. Cleanability of designs has become a top priority, and fortunately this trend is here to stay. Specialty leathers and vinyls are easy-to-clean fabrics whose popularity will continue post-pandemic. While some measures, such as mask wearing, may be on their way out, the prioritization of furniture cleanability will continue to grow as new technology in furniture is developed.
Wellness Design
Wellness design has been on the rise ever since the beginning of the pandemic, as awareness surrounding mental health and the pandemic's effects on it increase. Feelings of safety, comfort, and calmness are especially important in a healthcare setting such as a hospital, where patients must be able to feel at ease. Wellness design has played an ever-increasing role in making patients feel comfortable in healthcare settings, allowing both their physical and mental wellbeing to improve.
Wellness design can include items such as comfortable seating, white noise, and unique, colourful artwork. While these design changes can be simple, they work to create a cozy and welcoming space that helps patients and staff feel at ease. From comfortable waiting areas to welcoming examination rooms, wellness design can bring a breath of fresh air into healthcare spaces. Harkel Office can assist in choosing the best furniture to create a calm and comfortable setting in any healthcare space.
Biophilic Design
The COVID19 pandemic encouraged people to stay indoors, whether working from home, avoiding gatherings, or seeing their healthcare providers remotely. It is no surprise, then, that biophilic design—bringing the outdoors, indoors—increased in popularity throughout the pandemic. Biophilic design has been integrated into the design of settings in all industries, including healthcare. Popular biophilic designs include using natural lighting, decorating areas with plants, and using nature themed furniture, such as wood.
While patients might need to stay inside their rooms during their stay at a hospital, this does not mean they should be unable to experience the healing properties of the natural world. Rather than bringing these patients into nature, biophilic design brings nature to them! Including natural elements such as plants in interior designs has proven to increase patients' mental health. Due to their beneficial effects on patient health, these designs will continue to be popular in post-COVID19 healthcare spaces.
Built-In Charging Stations
With the decrease in in-person gatherings and meetings caused by the pandemic, both patients and healthcare providers have been increasingly forced to rely on technology. Communication through technology has become extremely important across healthcare spaces, especially as doctors, nurses, and other healthcare personnel must see patients remotely. As such, it has become increasingly important that charging stations are readily available throughout a healthcare space, and these have been adopted in interesting and innovative ways.
Furniture pieces, such as end tables and seating stations, are being designed with built in USB ports or electrical outlets to allow patients, guests, and staff to easily and conveniently charge their devices. With designs like these, already anxious patients or visitors do not need to worry about their devices losing battery. As technology continues to grow in prominence throughout everyday life, it is clear that this is a trend that is here to stay.
Multi-use Furniture
Multiple-use and modular furniture, like nightstands that turn into work surfaces, mobile seating, or folded beds were a huge asset for healthcare spaces during the pandemic. Not only is modular furniture convenient, but also it is also cost effective and accommodating for most of your patients' needs. The ability to use furniture efficiently—whether that means transforming its use, or being able to store it quickly when not in use—is a convenience that will not be overlooked in future designs. Multi-use furniture will continue to be developed, as healthcare spaces continue to evolve and become more flexible.
Harkel Office is a leader in healthcare design trends, and can help you transition your space into the future. From incorporating multi-purpose furniture, to implementing accessibility measures, to creating a warm and welcoming space, the experts at Harkel Office can help you choose and source the pieces that will bring your healthcare space to the forefront. Contact Harkel Office today and Get It Right!