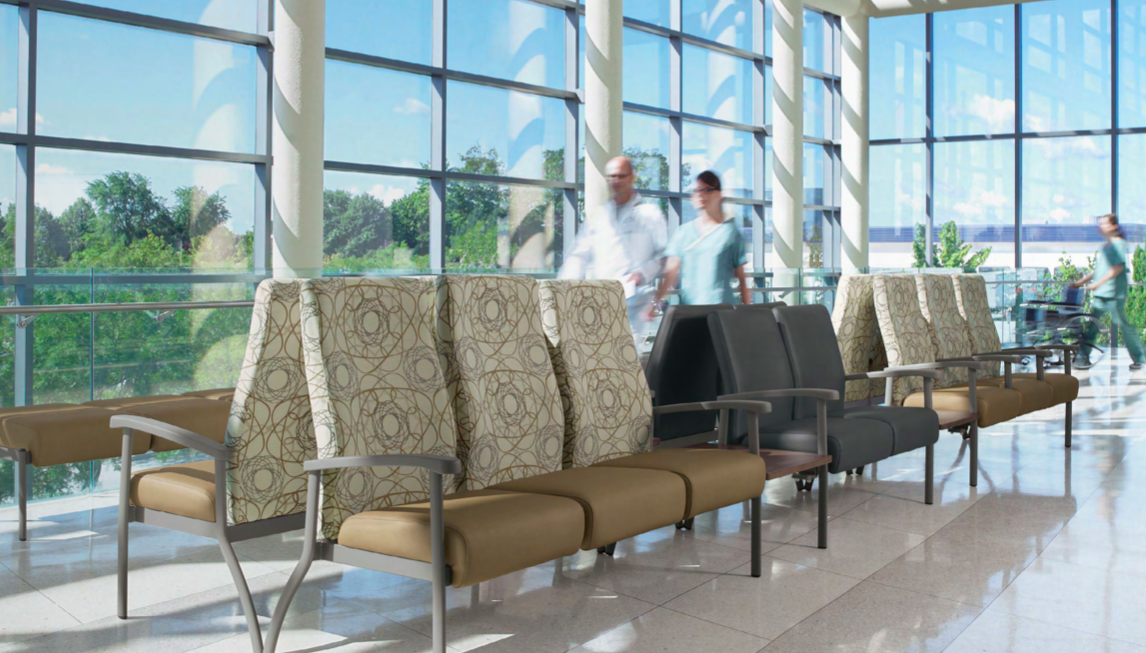 Designing for Inclusivity in a Healthcare Space
In healthcare, the one size fits all mentality is slowly giving way to more diverse, inclusive design principles. Not only are healthcare spaces becoming more accessible overall, but it is being recognized that distinct environments supporting specific populations can improve quality of care and improve a space's functionality. Responsibly built, thoughtful environments that accommodate all patients can improve safety, operations, and clinical outcomes of healthcare facilities, making inclusive design a priority in all modern healthcare spaces. Continue reading to learn more about what to consider when designing an inclusive healthcare space.
1. Creating Accessible Spaces with Universal Design
While some facilities may be specialized, most healthcare spaces must be designed for equal access to care across a broad spectrum of demographics. This includes, but is not limited to, those with differing abilities. Such spaces must be designed holistically, with a fully realized vision of the functionality of the space in mind, rather than making small fixes to improve accessibility.
Universal Design is a design concept that ensures a space is accessible to everyone, no matter their abilities; whether one suffers from physical, communicative, or cognitive barriers, each room is designed, built, and equipped to meet their needs. Not only does Universal Design meet base legal levels of accessibility, but it also goes above these minimum requirements and makes accessibility a priority. Spaces are designed for those with both visible and invisible disabilities, ensuring they can feel comfortable and receive equal access to the healthcare services they require.
2. Designing for Different Ages
Similar to designing for all abilities, healthcare spaces should be designed with all ages in mind. Whether a patient is young or old, they should feel comfortable and welcome at their healthcare provider. In order to support the unique needs of these communities, consider installing speciality spaces catering to these individuals.
For example, dementia-friendly facilities could help elderly patients feel more comfortable. Features such as wayfinding can help patients suffering from dementia find their way and feel confident in doing so. Wayfinding techniques include incorporating non-traditional ways of "mapping" a space: for example, using colour and texture to differentiate between areas, or mark a path. Including accessibility features that blend seamlessly with patient room design can help elderly patients retain their dignity while staying in hospital. Harkel Office can recommend assistive furniture with performance finishes tailored to medical spaces, without compromising design, to make healthcare spaces feel more like home.
Similarly, spaces can be designed to accommodate young patients. Including a pediatric recreation or games room in a facility can help young children escape the sterile hospital environment and allow them to play more naturally. Child-sized furniture in waiting areas or patient rooms can help them feel less "out of place" while receiving care. Mental health facilities designed to make children and adolescents feel comfortable can help ease the burden of their illnesses, allowing them to express themselves and giving them access to care in a safe space. Thoughtful healthcare design should cater to all ages, allowing a space to be truly accessible.
3. Comfortable Spaces for Caregivers
If you want your design to be truly inclusive for all people who spend time in your healthcare facility, it must also make your staff members a priority. Your staff spends the most time in your facility and can quickly begin to feel the effects of burnout. To avoid this, they should be set up for success throughout your space.
To support staff in your design, create employee spaces that prioritize comfort, rest, and wellbeing. At workstations, include ergonomic furniture to encourage employees to get off their feet and support their bodies when they do. Incorporate soothing décor into staff spaces, including touches of nature, calming colours, and appropriate lighting. Allow staff to gather and socialize by creating community spaces such as lounges or communal workspaces, alongside private spaces for them to rest or take some time to recharge. Private alcoves or break rooms designed for quiet rest and alone time allow staff to refresh their minds and bodies.
When a healthcare space is designed to run smoothly, caregivers feel supported and can create better experiences for their patients. However, to truly support your staff, it is important to also create a culture that does not promote overworking but emphasizes the importance of rejuvenation. Staff should be encouraged to take breaks when necessary, keeping them energized especially when working long hours. In fact, allowing them to receive the rest they need will help them minimize mistakes and provide better patient care overall!
4. Telemedicine is Here to Stay
While the COVID-19 pandemic appears to be coming to an end, healthcare trends that developed during the pandemic are here to stay. Telehealth is an area that grew rapidly during the pandemic, and while remote appointment numbers are decreasing, they will remain an important tool to complement in-person patient visits. As virtual care will continue post-pandemic, it is important that obstacles to remote healthcare be taken into consideration to ensure your design's long-term efficacy.
A more seamless remote patient experience can be created by integrating technology throughout your space, whether in exam rooms, waiting areas, or patient residence rooms. Not only will integrating technology into your design create a more attractive space for patients, but it will also ensure that in-person and virtual visits are fully integrated for a seamless experience. Space should be set aside specifically for telehealth visits and designed to accommodate the needs of virtual appointments: clean backdrops, proper lighting, decreased ambient noise, and upgraded internet and technology will all help support telehealth efforts.
Planning for remote patient visits will help to deliver increased convenience and access for patients, while improving the clinician experience and also helping to manage healthcare costs. Those who are not mobile, or who prefer an online appointment, can receive improved, comprehensive, and regular care from a facility that is prioritizing telehealth in its design.
However, it is also important to understand the limitations of telehealth, and work towards providing an exceptional experience to all. Telehealth can be inaccessible for some underserved communities, and to provide truly accessible healthcare it is important to consider how you can adapt to such communities. Providing the tools for underserved individuals to access your services—be they in-person or remote—will help to create a truly accessible experience for your patients. Whether this includes providing free WIFI at your facility, or setting up satellite or mobile locations, this is an important step in creating truly inclusive and accessible healthcare.
At Harkel Office, we know that one size does not fit all, and that all spaces should be designed inclusively. We strive to help you determine the best furniture options to suit the unique needs of your staff, patients, residents, or customers. Our furniture experts can help you choose pieces that suit a variety of needs, communities, and unique abilities, allowing you to build an accessible space for all. For a consultation, contact us at 905 417 5335 and Get It Right.