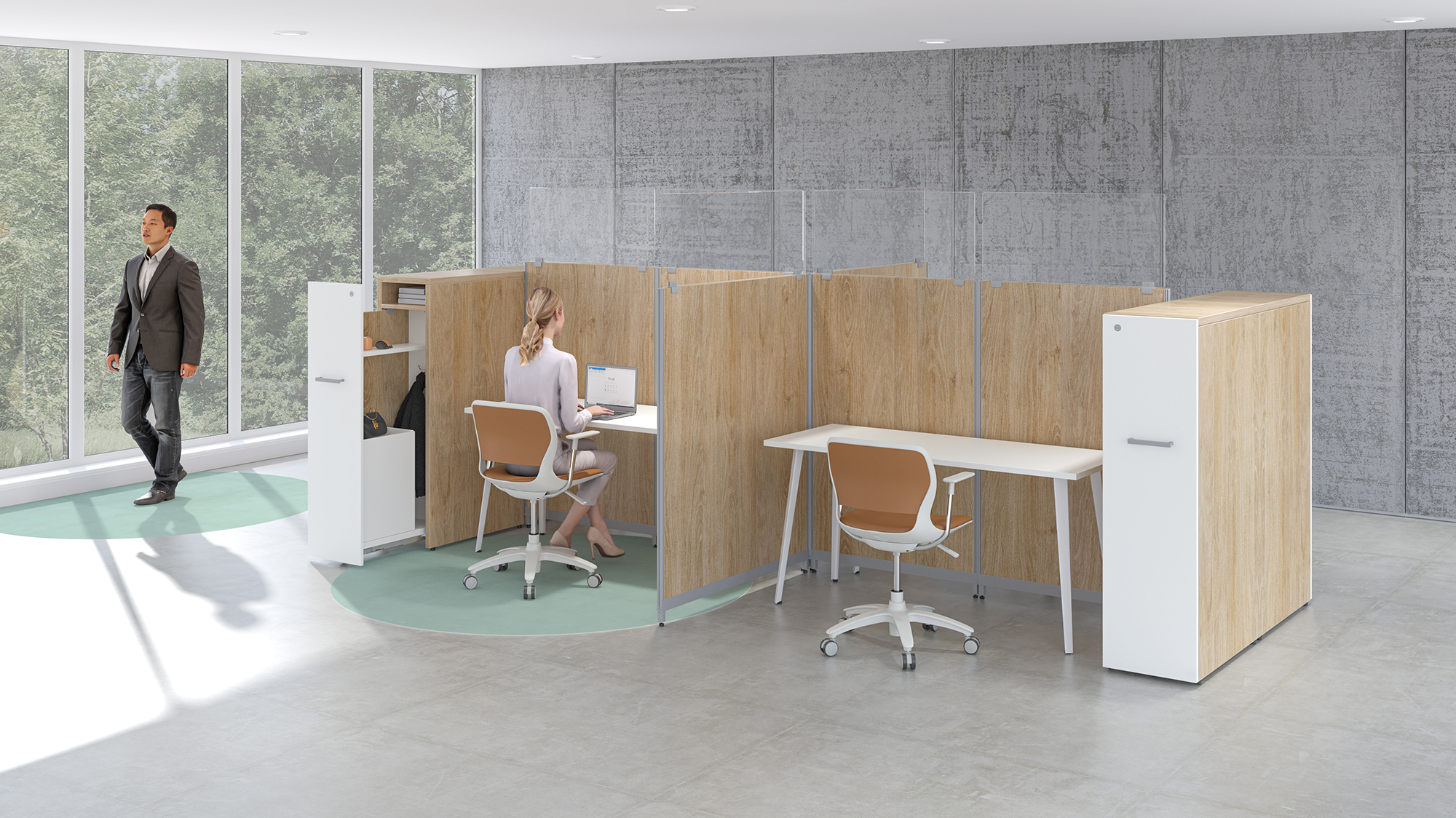 How to Design for a Hybrid Workforce
In today's workforce, hybrid working is becoming increasingly popular. As workers show their preference for a hybrid work model, the question arises: how do you keep hybrid employees happy? With a combined schedule of at-home and in-office work, it is important to update workspaces with hybrid work in mind in order to retain employees and attract prospective workers. Designing a space that captures the benefits of in-office work, while also making the most of the comforts of home, is an important step towards finding balance in a hybrid office. This article will discuss how you can create an effective hybrid workspace to benefit your employees… no matter where they are working.
1. Focus on Collaboration
While there are benefits to both in-office and at-home work, one key benefit to working in the office is the potential for more seamless collaboration. The energy and creativity that can come from in-person collaboration is difficult to replicate when working remotely. To promote effortless collaboration, invest in office furniture that promotes this goal. Use modular furniture that can be moved and combined in a variety of ways, allowing employees to design and redesign their space to fit their team members' changing needs. Including social spaces can also help employees feel connected while at the office, allowing them the casual interactions that may have been missing from a full-time at-home schedule.
However, be sure to equip these spaces with tech that allows those at home to feel included—video screens can be used to allow at-home workers to be part of the conversation and connect with their peers. Similarly, meeting and collaboration spaces should be equipped to service not only in-office, but at-home workers as well, ensuring everyone is included. Any in-office design decisions should prioritize consideration for those who will be joining work remotely.
2. Bring the Flexibility of Home to Work
Modular furniture can be complemented by open spaces with moveable barriers that allow flexible, on-the-go collaborations. Moveable and reconfigurable spaces can also allow for the differing preferences of the individuals who will be in office day-to-day. Shared workspaces and desking solutions should be flexible and customizable, allowing employees to use a shared space seamlessly. Height adjustable desks for example, can allow a variety of employees to use a space comfortably, no matter their size. Including personal small-storage solutions in workstations can also allow employees easy and safe access to their personal effects, without the need to shuttle necessities between work and home.
Further, to mimic the at-home environment, open spaces should be complemented by enclosed, personal spaces. Many workers prefer a private work environment compared to an open concept space and have become accustomed to working privately from home. Allowing employees to choose their workstation when they are in-office will mimic their at-home experience, permitting them to work more effectively in-office. In addition, as the instances of video meetings have increased significantly, so too has the need for private, quiet spaces. Private, enclosed video pods can help to give in-office workers a private space to conduct their video calls without disturbing their neighbours, while also leaving a small footprint.
3. Create a Comfortable Environment
Another strategy to make the office feel more desirable to at-home workers is by designing around your employees' comfort. Include the amenities that they desire most and are used to having in their at-home spaces. Including perks for hybrid employees when they are in-office can make a return to the office more desirable, allowing hybrid workers to look forward to their days in-office.
Consider offering employees flexible arrival and departure times, built-in break times, casual dress, or similar perks to mimic the comfort and variety experienced at home. Offer in-office perks such as complementary coffee or tea stations, meditation rooms or exercise spaces, or to-go prepared meals to draw workers back into the office.
Allowing employees to work in their preferred style, be that collaboratively or privately, will allow them to feel comfortable and work as effectively in-office as they do at home. Relaxed spaces, including comfortable seating and softer lighting, can mimic the more laid-back home office environment. Some employees may be used to working from their couch, after all!
4. Invest in Technology
While feeling comfortable is important, it is important that hybrid workers feel included while they are in-office, and at-home. Remote employees can easily feel left out when most of their peers are in the office and integrating technology into your workspace can help to bridge that gap. Investing in improved video technology not only in the office, but for your employees' home offices, can help to improve your team's experience, no matter their location.
Supporting at-home workers by providing the tools that they need to do their job effectively, from computer monitors to upgraded WIFI, will help at-home workers feel more valued. Collaborative tech and software, such as digital whiteboards, can help foster a collaborative environment for those in different locations, bringing the team even closer together.
5. Combine the Digital and Physical Experience
Finally, it is important to pay attention to the materials that you are bringing into your home office, as
All the above points culminate into one overall piece of advice: bring the at-home and in-office experience together. Bridging the gap between the home and the office, between digital and physical work, will help employees not only work more effectively together, but forge a stronger connection between at-home and in-office employees. Consult with your employees to determine where their needs are being met, and where there could be improvements. Search for ways that this gap can be closed, via technology, furniture, design, or company structure.
Innovate ways that at-home employees can engage with their in-person counterparts. For example, give each remote worker a dedicated screen during meetings, giving the illusion that they are physically in the room. Or, use rounded tables so that remote workers have a sightline to all meeting participants. When designing meeting rooms, consider sightlines, lighting, camera angles, audio, and how these different factors will affect at-home participants. Allowing at-home employees to feel like they are in the office will enhance their experience, allowing a hybrid office to function with comfort and ease.
When shifting to a hybrid workforce and workspace, it is important to know that the changing culture begins with leadership. Take the pulse of your workplace to determine the challenges your team faces, devise solutions, and work towards a space that will support your employees and their needs. Focus on creating spaces where in-office workers can feel at home, and at-home workers can feel seen. If you are interested in redesigning your space to support a hybrid workforce, Harkel Office can help. Our team of furniture and design experts can work with you to create a space that functions for all your employees. When you work with Harkel Office, you Get it Right.