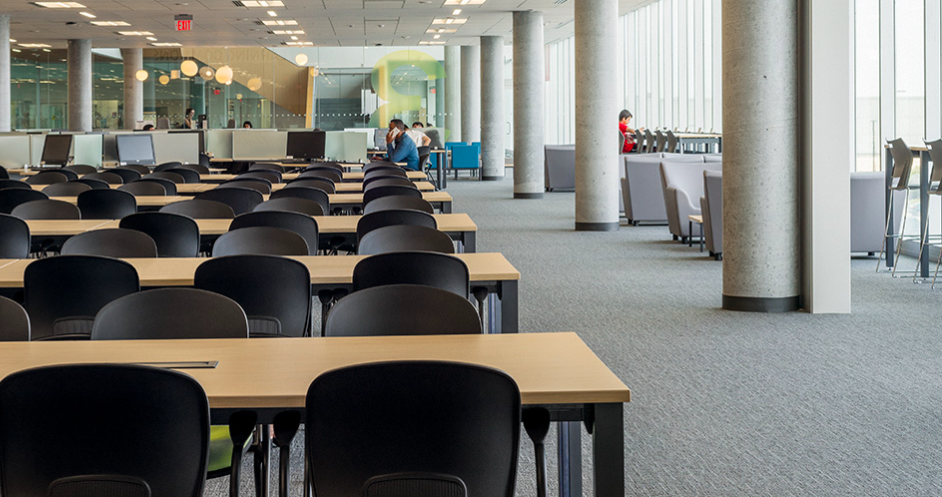 Optimizing Student Spaces in Higher Education
Higher education students who spend more time on their campus are more likely to succeed in their studies. However, how do you create student spaces that encourage students to spend their time on campus, rather than heading home? Higher education should put an emphasis on designing for more than just learning; lecture halls and labs should be complemented by student-centric areas, allowing students to use their chosen educational institution to its fullest.
Libraries, student centers, cafeterias and outdoor spaces can all be made into multipurpose, multifunctional student hubs, rather than siloed for a specific usage. Redefining the use of these spaces, and designing to optimize them for student use, will encourage students to spend more time on campus… and allow them to use this time to its fullest potential. Continue reading to learn more about how student spaces can be redesigned and optimized for student use.
1. Library
The COVID-19 pandemic meant that all education spaces needed to be rethought, as classes and instruction went online. However, one of the most affected areas was the library, as staff members were forced to redefine what library use meant… and in many cases, these changes are still ongoing. Now, libraries must balance the demand for in-person space usage and the need for online work and remote access to materials. Collaborative spaces must be balanced with private space for intensive academic work, while being mindful of safety concerns for those spending extended period in shared spaces.
Current library users want a wide range of space types to accommodate their needs, with different acoustical, privacy, and technology requirements according to the type of work being undertaken. In order to accommodate these changing needs, library design must be rethought, with priority placed on multi-use configurations that are activity-based, rather than based on the type of user. Group study rooms, private pods, moveable tables and chairs, and integration of technology for multi-media project optimization should all be considered as staples of the reimagined library space.
Within these multi-use spaces, some considerations should be taken to optimize student usage. Technology should be integrated throughout the space, including charging stations for devices, screens and monitors for group work and presentations, as well as spaces enabled with audio and visual technologies to facilitate video calls and conferences. Further, modular furniture should be used where possible, allowing students to reconfigure layouts for group or personal use. If needed, a student can separate a seat from a group space to engage in individual study, eliminating the potential for "wasted" group spaces. Similarly, furniture could be added to a space to accommodate a larger group session. Many students prefer to study "alone, but with others," and spaces should be designed to accommodate such preferences.
2. Cafeteria & Dining Hall
Within an educational institution, the cafeteria or dining hall remains one of the top student gathering places. However, the dining hall is another space that should be reimagined, as students' desires continue to change when it comes not only to food offerings, but also to the usage of a cafeteria or dining hall space. Food fosters social interaction, relaxation, and even studying, so it is no wonder students prefer to congregate in such spaces. As such, these spaces should not be designed simply for eating, but also for studying and group work; today's cafeterias can be seen as a second "study hall."
Modern dining spaces should be welcoming, incentivizing the commuter population to not only remain on campus and utilize the facilities, but to return to campus on weekends or for events. The cafeteria should become a social hub for commuter and resident students alike. To make the space flexible, include moveable, modular tables and chairs instead of traditional stationary or booth seating.
Different seating styles should be included in a cafeteria redesign, allowing the space to accommodate different uses and abilities. Shared, intimate seating areas, lounge seating, as well as traditional dining sets allow the space to function for formal or casual meals. Proper acoustic planning can reduce noise pollution, allowing students to communicate clearly or concentrate more easily. Acoustic panels can cut down on ambient noises in a large, open space. Optimizing available natural light—large windows or a skylight are ideal—or implementing lighting solutions that mimic natural light can bring energy to the space, while more intimate table lighting can help a space feel more comfortable and home-like. Digital signage can be incorporated throughout to announce menus, events, and other news, keeping students updated.
3. Student Center & Lounge Space
Finally, the student center is a space that is already dedicated to students' comfort and socialization, but how can it be improved? The student center is a gathering space for clubs, studying, socialization, meals, relaxation… even taking a nap! Such a space needs to be exceptionally flexible in order to accommodate such a variety of student needs. What if you don't have space for a large, communal area? Creating multiple, smaller community spaces across campus can be designed to serve a variety of functions, giving students flexibility and the ability to find time to relax between classes.
No matter the size of your student lounge space, including comfortable seating options is imperative. Lounge chairs and couches, as well as "fun" seating such as bean bag chairs, can make the room feel more inviting and home-like. Flexible seating choices, such as ottomans, that can be used as seating or easily converted to a table surface will also go a long way in such a space. Above all, modular furniture should be included, allowing students to arrange and rearrange seating areas to suit their needs. Such spaces can be made functional for both small or large groups, club meetings, or individual study time.
Further design considerations include moveable wall partitions that allow for the creation of quiet, private "rooms," but can be easily rearranged to create a more open and shared layout for larger meetings. Performance fabrics that can easily be cleaned and sanitized between use provide for a much more functional space… especially if the student center includes a canteen or pub! Pops of colour can make a student-centric space fun and inviting, and can be incorporated in furniture, décor, or on the walls. Finally, the need for technology integration is ever-present in student spaces, as reliance upon electronic devices continues to grow.
While these important student spaces should be given priority, there are many other student-centric spaces that could be included in a higher education space. A fitness or meditation space can allow students to focus on their physical and mental health while on campus. Lush and inviting outdoor spaces can help students reconnect with nature and the outdoors. And a student-run coffee shop or pub can allow students to gather while feeling like they are not on campus at all!
No matter the space, flexibility is a major consideration in student-centric design. The needs of students are ever-changing, and education spaces should be designed to accommodate not only the changing face of education, but the changing needs of students themselves. If flexible and modular design is intimidating, the experts at Harkel Office can help. Our expert consultants have a plethora of knowledge, and can find flexible, modular furniture solutions to meet your need, vision, and budget. Contact Harkel Office today for your educational institution's redesign, and Get It Right.