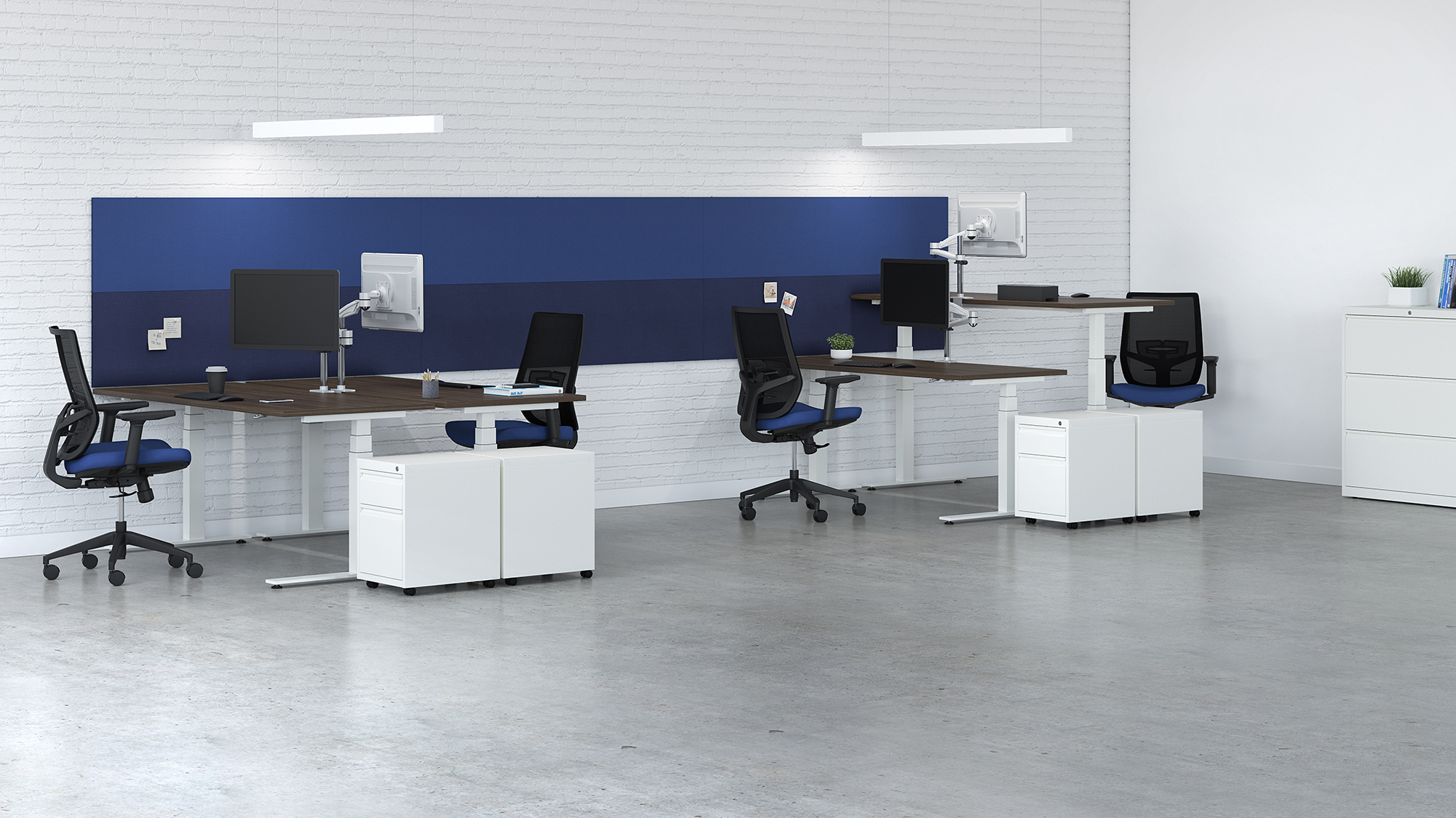 The Importance of Ergonomic Furniture in the Workplace
In many workplaces, it is common for employees to sit in place for long periods of time, and it is important that the furniture provided is high quality. As an office worker, you may need to be seated to complete your full day's work! In cases where employees are on their feet for most of the day—such as in a healthcare or education setting—it is equally important that relief is found when they can complete periods seated work.
Ergonomic furniture can provide many benefits to employees in all industries, while also benefitting employers. Ergonomic furniture not only provides health benefits to the user, but can also increase productivity, and its durability allows it to be in use for the long term. Today, we will address the benefits of ergonomic furniture, to help you better understand the benefits of ergonomic furniture in the workplace.
1. Productivity
It may not be the first benefit that comes to mind, but ergonomic furniture in fact has a positive correlation to productivity. Due to its design, ergonomic furniture eliminates unnecessary movement as well as awkward resting and working positions. When using ergonomic furniture, employees are less likely to get distracted—for example by fidgeting, stretching, or getting up for a walk—and thus are more likely to complete their tasks without interruption. Furthermore, the increased comfort provided by ergonomic furniture can help increase job satisfaction, minimizing on-the-job boredom and building excitement for one's job.
2. Health Benefits
Ergonomic furniture also has numerous health benefits for employees. Ergonomic furniture is designed to support the employee as they work which improves posture, blood flow, and joint pressure. In fact, ergonomic furniture can help reduce employee pain, especially in the lower back, neck, and hips, which can be caused by improper seating positions and support over long periods of time. Ergonomic furniture works to fix employees' posture, realign their spine, prevent arthritis, and reduce the number of overall work-related injuries. Not only can ergonomic chairs help reduce pain, but the supportive furniture also helps promote relaxation, allowing employees to comfortably complete their work.
3. Custom Settings
Each employee is different, and as such, will have different needs in order to be as comfortable as possible. Harkel Office can help you choose furniture to suit each employee's individual needs, but what if your workplace requires employees to share spaces and seats? Fortunately, not only does ergonomic furniture come in a variety of shapes and sizes, but many models can be adjusted to fit each employee's preferences. Most ergonomic office chairs allow adjustments such as seat height, seat depth, back recline, lumbar support level, and armrest height, which can help employees customize their seat to meet their needs—even in a shared workspace.
4. Decreased Costs
Finally, not only is ergonomic furniture beneficial to employees, but it can also benefit the employer. Ergonomic furniture is high quality and built to last for the long-term. Ergonomic pieces are an investment, and while they may appear to cost more up front, the long-term savings will quickly become evident. With its increased durability, you will be able to get many years out of your ergonomic furniture pieces and will not need to repurchase as frequently as with lower quality pieces. Further, their beneficial qualities mean employees are less likely to become injured or otherwise unwell, decreasing instances of sick leave or costs accrued from improper safety practices.
Ergonomic furniture is a great investment for your office space, and you will reap the benefits for years to come. If you would like to improve employee health, productivity, and comfort while reducing costs, ergonomic furniture is a must. For more information on ergonomic furniture, or assistance in choosing the proper pieces, contact the experts at Harkel Office. Our team has extensive product knowledge, and no order is too big or too small.  Contact Harkel Office for a consultation at 905-417-5335. With Harkel Office, you will Get It Right.